Ladysmith Black Mambazo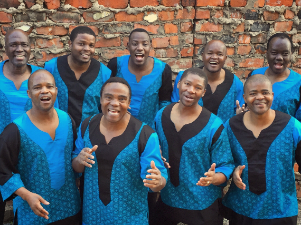 South Africa's Ladysmith Black Mambazo was founded in the early 1960s by Joseph Shabalala, then a teenage farm boy living on the lands just outside the small town of Ladysmith, in the province of kwaZulu Natal, half way between Johannesburg and Durban.
In 1969, with four brothers and three cousins, Joseph had the voices he long dreamed of his group having. A radio broadcast in 1970 opened the door to their first record contract, the beginning of an ambitious recording career that currently includes more than seventy albums, earning nineteen GRAMMY Award nominations and five GRAMMY Award wins; Shaka Zulu (1988), Raise Your Spirit Higher (2004), Ilembe (2009), Singing For Peace Around the World (2013), and Shaka Zulu Revisited (2017).
In 2017 the group released two albums that both were nominated for GRAMMY Awards, a first for a World Music group. Songs of PEACE & LOVE for Kids & Parents Around The World was nominated for Best Children's Album.The group sings from a traditional music called isicathamiya (is-cot-a-ME-Ya), which developed in the mines of South Africa. It was there that black workers were taken by rail to work far away from their homes and families.
In the mid-1980s, American singer/songwriter Paul Simon visited South Africa and incorporated the group's rich harmonies into the famous Graceland album (1986) – a landmark recording that was considered seminal in introducing world music to mainstream audiences. Ladysmith Black Mambazo has recorded with Stevie Wonder, Dolly Parton, Sarah McLachlan, Josh Groban, Emmylou Harris, Melissa Etheridge, and many others. They have provided music for many movies, have appeared on Broadway where they were nominated for a Tony Award and even had a documentary film, titled On Tip Toe: Gentle Steps to Freedom, the Story of Ladysmith Black Mambazo, nominated for an Academy Award.
Ladysmith Black Mambazo carries a message of Peace, Love and Harmony as they travel the world year after year. They bring this message, in song and dance, to every theater they perform in.